Professional Commercial HVAC Installation in Elkridge, MD and the Surrounding Areas
At A-C Air Care LLC, we understand that your commercial space needs reliable heating and cooling systems to maintain a comfortable environment for customers and employees. That's why our team of HVAC professionals in Elkridge, MD provides the highest quality installation services for all types of commercial spaces –– including buildings, offices, factories, and warehouses. 
With decades of collective industry experience, our team is well-equipped to design and install systems that offer reliable performance and optimal energy efficiency. Plus, our services come with a satisfaction guarantee, so you can rest easy knowing you're getting the best possible service. Contact us today to learn more about how we can help with your commercial HVAC needs in Elkridge, MD.
Commercial HVAC System Repair and Maintenance 
Our commercial HVAC services includes repair and maintenance. Both are key to preventing damage and extending the lifespan of your unit. But what, precisely, falls under commercial maintenance? Here are some examples:
Changing your air filter a few times each year prevents dust, dirt, or debris from getting into your system.

Checking that belts and pulleys are strong enough so that they don't break.

Cleaning condensate lines and evaporator coils help to keep them free of moisture and dust, which can decrease efficiency.

Emptying and cleaning your drain to prevent mold from building up.

Resecure any loose electrical connections.
A-C Air Care LLC provides reliable and cost-effective commercial HVAC services in Elkridge, MD. Whether you need an installation or repair service, our professionals are here to help. We also offer preventative maintenance plans and on-call HVAC repair service when sudden issues occur.
Commercial Heating Services
If you're looking for someone to fix your Elkridge commercial heating system or install a new one, A-C Air Care is your go-to HVAC company. Our technicians are experts in ductwork, insulation, returns, and sizing systems so that you can be sure that your commercial building is adequately heated. Give us a call today, and we'll ensure all your commercial HVAC needs are taken care of!
Commercial Air Conditioning Services
We understand how important it is for your business to stay cool in the warm summer months. Your employees, customers, and tenants need to be comfortable, and when your air conditioner has problems, so does your business. That's why A-C Air Care provides expert commercial air conditioner installation and repair services. From new system design to routine maintenance, we can handle all of your commercial air conditioning needs quickly and efficiently.
A-C Air Care: Benefits of Commercial HVAC Service
Having heating and cooling systems installed shouldn't mean you forget about them until they break. On the contrary, by performing regular maintenance and repairs quickly, you'll reap these benefits for your workplace beyond just regulating temperature and airflow: 
Reduce The Need for Emergency Repairs
As a business owner, one of the most important benefits of regular HVAC service is that it helps to reduce the likelihood of emergency repairs. Our technicians can identify potential problems before they become serious, allowing you to make cost-effective and timely repairs rather than waiting for an issue to worsen and cause a complete breakdown.
Enrolling in a preventive maintenance program (link for maintenance plans page) for your HVAC system decreases the likelihood of needing emergency service. If you require it, you're given priority as a regular customer. This can save you considerable time during high-peak usage seasons.
Save Money On Energy Costs
A non-optimal HVAC system can cost your business a lot of money in electric bills. However, regular HVAC service ensures that your system runs as efficiently as possible, saving you from spending more than necessary on heating and cooling costs. Plus, with our preventative maintenance plans, you can rest assured that your energy costs will remain low.
Extend the Life of Your HVAC System
By performing regular maintenance and repairs on your commercial HVAC system, you'll be able to extend its lifespan significantly. This means you won't have to worry about replacing your system anytime soon, helping you save money that can be used in other areas of your business.
Protect The Environment
By maintaining and regularly servicing your HVAC unit, you'll also be helping to protect the environment. This is because well-maintained systems are more energy efficient, producing fewer emissions and using less energy than loose ones. 
Regular commercial HVAC maintenance services can also help to identify possible problems before they become serious, preventing air pollutants from entering the atmosphere.
A-C Air Care: The Best Commercial HVAC Contractor in Elkridge, MD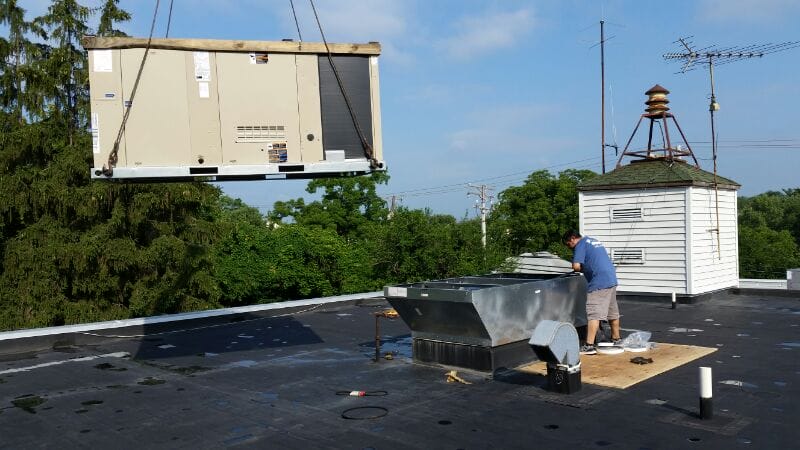 When you need a commercial HVAC contractor, you want to make sure that you're getting the best possible quality and value. That's why A-C Air Care is the perfect choice for your business in Elkridge, MD. We offer a variety of HVAC services, including preventive maintenance plans, repair and replacement, energy-efficient upgrades, and more. 
With A-C Air Care as your trusted HVAC partner, you can rest easy knowing that your business is in good hands. Contact us today to learn more about our commercial HVAC services in Elkridge, MD and how we can help you make the most of your heating and cooling systems!
AC Tune-Ups for BGE Customers At No Additional Cost
BGE (Baltimore Gas and Electric) customers can take advantage of our AC tune-up service at no additional cost.
Have a Question? Ask our Service Professionals.