Ductless Mini Splits in Elkridge, MD
Professional Installation, Repair, and Maintenance
If you've ever had to install ducts by tearing down walls, then you know how much of a nuisance this can be for your comfort and budget. Also, with AC ducted systems, you'll always be bothered by inefficiencies that lead to higher energy bills each month. As a result, ductless mini splits are becoming an increasingly popular option for those looking for an energy-efficient way to heat and cool their homes.
A-C Air Care offers professional installation and maintenance of ductless mini splits in Elkridge, MD. We have highly trained and experienced technicians that can help you choose and install the right system for your home. We also offer regularly scheduled maintenance to keep your system running efficiently and help prevent costly repairs. 
Contact us today to learn more about our ductless mini-split services in Elkridge, MD.
How Does a Ductless Mini Split Work in Elkridge, MD?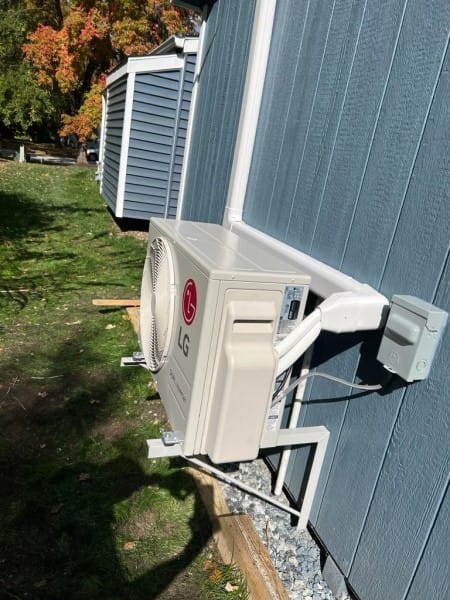 A ductless mini-split system consists of two main parts: an outdoor compressor/condenser unit and one or more indoor air handling units. The outdoor unit is connected to the indoor unit(s) by a small refrigerant line and power cable. Each indoor unit is mounted on the wall and delivers conditioned air directly into the room.
The ductless mini-split system is a highly efficient way to heat and cool your home because it doesn't lose any energy through ductwork. The indoor and outdoor units are also very quiet, so you won't even know they're running.
Contact us today if you're interested in learning more about our ductless mini-split services in Elkridge, MD. We'll be happy to answer any of your questions and help you choose the right system for your home.
Advantages of Using a Ductless Mini Split System
A ductless mini-split brings the following advantages over other types of AC systems:
No Ducts Means No Energy Loss
Traditional air conditioning units are incredibly inefficient because they rely on ductwork full of holes, gaps, and cracks, inviting cool air to escape. As a result, you'll spend more money each month because you'll blast your AC unit to achieve your desired temperature. According to the U.S Department of Energy, duct leaks account for 30% of central air's energy consumption.
Ductless mini-splits are more energy efficient because they don't rely on ductwork to deliver fresh, cool air. This means no energy is lost through ductwork, making the overall system more cost-efficient.
Quiet Operation
Ductless split systems generally provide quieter and smoother AC operation, even though older models were sometimes quite noisy, particularly when set for high cooling levels. However, mini-split fans have evolved to provide optimal cooling at lower speeds than older models, and they operate more quietly because the compressor/condenser is outside.
Minimal Installation Required
Compared to other residential and commercial space heating/cooling systems, ductless AC systems have a more straightforward installation process. The indoor and outdoor system units simply need to be connected with a conduit inserted in a three-inch hole through the width of a wall.
Mini-split manufacturing companies also supply customers with varied conduit lengths, enabling you to place your outdoor unit up to 50 feet away from the indoor unit. This is especially helpful when homeowners or commercial property managers want to install the compressor/condenser unit on an exterior side wall of a building.
Methods of Zoning
In HVAC terms, zoning is distributing conditioned air evenly throughout a home to create consistent temperatures and comfort. These are the methods of zoning:
Using two thermostats –– each for the upstairs and downstairs area.

Two HVAC systems control different parts of the house.

A single HVAC system with a mainline that runs from the furnace to other areas of the house. You have the option to choose manual or automatic dampers to control airflow.

Ductless mini-splits.
Ductless Mini-Splits: The Solution for Zoning Issues
By having one central air conditioner or heat pump, you can shut off a section of your ductwork to make the air go where you desire. Of course, you would need dampers for this process, but that's a minor detail considering you're essentially making another part of your home colder or hotter on command. Not to mention that it can be expensive and impractical if not done correctly.
Often, areas in your home that are unnecessarily hot or cold are not due to an issue with the ductwork. Instead, it's because of insulation. For example, if you have a room above a garage, there might be no insulation on the walls, ceiling, or floor. You also can't put ductwork in a garage because it's dangerous to circulate car exhaust, which has carbon monoxide back into the house. Therefore, you would need to create a separate zone for that area.
Ductless mini-splits are the solution to your zoned heating and cooling problems. You can easily heat or cool any space in your home by targeting a specific area.
Contact A-C Air Care Today!
A-C Air Care LLC is your local provider of ductless mini-split services in Elkridge, MD. We offer a wide range of services to ensure your AC system runs efficiently, including installation, repair, and maintenance. Contact us today to schedule a service or learn more about our ductless mini-split offerings.
We look forward to serving you!
Air Conditioning Services
AC Tune-Ups for BGE Customers At No Additional Cost
BGE (Baltimore Gas and Electric) customers can take advantage of our AC tune-up service at no additional cost.
Have a Question? Ask our Service Professionals.