Your Go-To HVAC Contractor in Odenton, MD
AC Tune-Ups for BGE Customers At No Additional Cost
BGE (Baltimore Gas and Electric) customers can take advantage of our AC tune-up service at no additional cost.
Why Choose A-C Air Care as Your HVAC Contractor in Odenton, MD?
Experienced and Certified Technicians:

Our technicians are not only highly skilled in HVAC service, but they also undergo regular training to stay updated with the latest HVAC systems and technology. 

Comprehensive HVAC Services: Whether you need AC repair, heating maintenance, or a new heat pump installation, we've got you covered. We offer a wide range of services to meet all your HVAC needs under one roof.

Over 20 Years in the Business:

Our two decades of experience in the industry have equipped us with the knowledge and expertise to handle all kinds of challenges an HVAC unit poses, like streamlining the HVAC installation process. We've also built a reputation for providing reliable, efficient, and professional services.

Exceptional Customer Service:

From your first interaction with us, you'll experience our commitment to customer satisfaction.

Commitment to Energy Efficiency:

We offer solutions designed to maximize the efficiency of your HVAC system, such as regular maintenance services, installing energy-efficient HVAC equipment, providing smart thermostats for better temperature control, and offering personalized advice on optimizing your home's insulation and ventilation.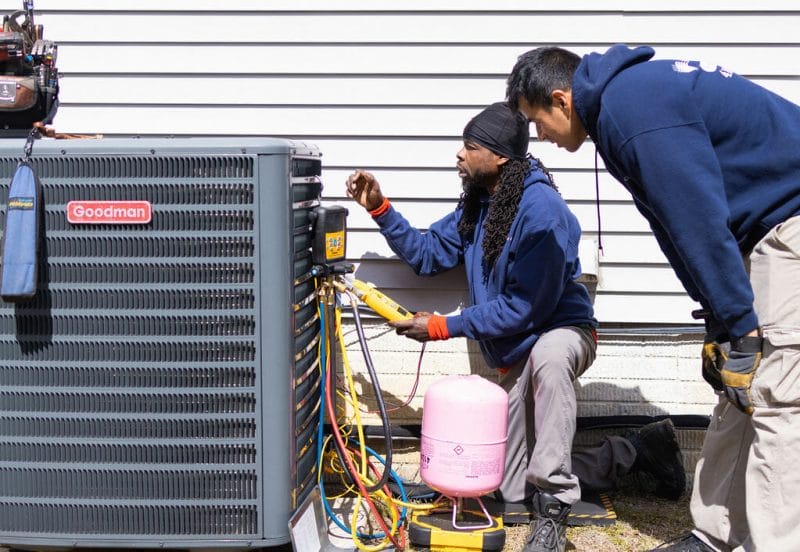 Comprehensive AC Services in Odenton, MD
Our goal is to keep your home comfortable and your AC system functioning at peak performance. As a solution, we offer the following air conditioning services to meet your every need.
Expert AC Repair in Odenton, MD
A malfunctioning air conditioner can disrupt your comfort, especially during the hot summer months. Our technicians are adept at diagnosing and fixing a range of common AC issues, such as:
Inadequate cooling

Strange noises or odors

Frequent cycling or constantly running unit

Failure to turn on
Upon identifying the problem, our technicians at A-C Air Care use the latest tools and technology to deliver efficient, reliable repairs, ensuring your system is back up and running in no time.
AC Maintenance in Odenton, MD: Keeping Your System Running Smoothly
Our comprehensive maintenance packages allow you to enjoy the benefits that routine AC maintenance brings:
Prolong the lifespan of your unit

Improve energy efficiency

Prevent costly repairs or sudden breakdowns

Maintain indoor air quality
Top-Notch AC Installation in Odenton, MD
While regular preventive maintenance and repair can prolong the life of your AC unit, a point often comes when replacement is the most practical and cost-effective choice. This could be due to several factors:
The unit is unrepairable.

The system is over 10-15 years old.

The AC frequently breaks down, incurring high repair costs.

You want to upgrade to a more energy-efficient model for environmental and cost-saving reasons.
If you're considering installing a new AC system in your Odenton home, our team at A-C Air Care will guide you in selecting the ideal unit. We will ensure it's installed correctly for maximum performance and efficiency, allowing you to save money on energy bills while keeping your home cool and comfortable.
Reliable Heating Services for Odenton, MD, Homes
Our heating services ensure your home stays warm and cozy during the chilly months. 
Prompt and Efficient Heating Repair in Odenton, MD
 These heating issues may not only disrupt your comfort, but can also compromise your safety:
Inadequate heating or no heat: This could be due to a malfunctioning thermostat, a faulty pilot light, or issues with the furnace's heat exchanger.

Unusual noises or smells: These can result from mechanical problems, such as a loose or broken component or a dirty burner causing unpleasant odors.

Frequent cycling or continuous running of the unit: This often indicates a faulty thermostat, improper airflow, or a heating system that's too large for the space it serves.

Thermostat issues: This can range from faulty wiring and dust buildup to more complex problems like incorrect calibration.
At A-C Air Care, we understand these issues and how to solve them. Our skilled technicians can quickly diagnose these problems and provide efficient, reliable repairs, restoring your heating system to its full functionality.
Heating Maintenance in Odenton, MD for Long-lasting Performance
Maintaining your heating system regularly is key to:
Increasing the longevity of your unit

Boosting its energy efficiency

Warding off sudden malfunctions and expensive repairs

Maintaining a consistent, warm indoor environment
At A-C Air Care, we provide an all-encompassing maintenance package tailored to your heating system and ensures your system meets all of the state of Maryland safety regulations. This includes a meticulous inspection, thorough cleaning, and comprehensive tune-up, ensuring your system operates at peak performance during the colder months.
Professional Heating Installation in Odenton, MD
Sometimes, investing in a new heating system becomes the most sensible option. Therefore, if you find yourself in the following situations, our team will help you navigate the process of selecting and installing a new heating system:
Your current unit is damaged beyond repair

The system is outmoded or not energy efficient

Regular breakdowns result in mounting repair costs

You're considering an upgrade to a model with superior energy efficiency
Furnace Repair in Odenton, MD: Ensuring Your Comfort
A malfunctioning furnace can significantly disrupt your home's coziness. Typical furnace issues include:
Inadequate or absent heat

Unusual sounds or odors

The furnace cycling on and off frequently
Our expert technicians at A-C Air Care are skilled at diagnosing and resolving these issues. Beyond repair, we also offer furnace installation and maintenance services, keeping your home consistently warm and inviting.
Specialized Heat Pump Services in Odenton, MD
At A-C Air Care, we provide comprehensive heat pump services designed to keep your system running efficiently, giving you numerous benefits. 
Expert Heat Pump Repair in Odenton, MD
Our seasoned technicians can quickly diagnose these problems and provide effective, long-lasting solutions:
Inadequate heating or cooling:

This problem can result from several issues, such as a malfunctioning thermostat, a refrigerant leak, or a clogged filter. 

Strange noises or smells:

Unusual sounds often indicate mechanical issues, like a loose part, while strange odors can signal problems like burnt wiring or mold growth. 

Frequent cycling or continuous running of the unit:

This is often due to a thermostat problem, incorrect sizing of the heat pump, or low refrigerant levels.

Icy or frosty outdoor unit:

While it's normal for the outdoor unit to have a light frost during cold weather, heavy ice buildup can indicate problems such as a malfunctioning defrost control or low refrigerant.
Heat Pump Maintenance in Odenton, MD, for Optimal Efficiency
Our heat pump maintenance services include thorough inspection, cleaning, and tune-up of your heat pump, ensuring it performs at its best throughout the year. As a result, you can enjoy the following benefits:
Prolong your unit's lifespan

Maximize its energy efficiency

Minimize the risk of unexpected breakdowns

Maintain a comfortable indoor climate
Reliable Heat Pump Installation in Odenton, MD
A new heat pump may be the best solution when:
Your existing unit is beyond repair

Your system is outdated and less efficient

The unit frequently malfunctions, leading to high repair costs

You wish to upgrade to a more energy-efficient model
Choose A-C Air Care: Your Partner for HVAC Solutions in Odenton, MD
As your go-to HVAC contractor in Odenton, MD, our comprehensive HVAC services, including AC, heating, and heat pump solutions, give you peace of mind that your home remains at the perfect temperature year-round. So, whether you're facing an unexpected breakdown, need routine maintenance, or are considering a new installation, trust A-C Air Care to provide top-notch, reliable solutions. Unlike other HVAC companies, we're more than just a service provider; we're your partner in creating and maintaining a comfortable home environment. 
Call us today at A-C Air Care, and let's ensure your comfort is never compromised.