Top-Rated HVAC Contractor in Columbia, MD
Homeownership has many responsibilities, including ensuring that your heating, ventilation, and air conditioning (HVAC) system runs efficiently. Unfortunately, many homeowners overlook the importance of regular HVAC maintenance, which can result in minor annoyances and system failure over time. From professional installations and maintenance to emergency repairs, we have the skills and knowledge to keep your HVAC system in top shape.
Contact us today to schedule an appointment and ensure your home or business is comfortable and energy-efficient all year round!
Comprehensive HVAC Services in Columbia, MD – Your One-Stop Solution
A-C Air Care is Columbia, MD's trusted HVAC service provider. Our dedicated team offers tailored solutions that align with your unique needs and budget. From heat pumps and air conditioners to gas furnaces, all your heating and cooling needs are covered.
Here are some of the HVAC services we offer:
HVAC Repair in Columbia, MD
At A-C Air Care, we proudly offer comprehensive HVAC repair services in Columbia, MD. Our professional HVAC technicians are skilled in handling a broad range of HVAC services. Whether you need assistance with air conditioners, heat pumps, or gas furnace repairs, every HVAC technician at A-C Air Care provides professional service on time.
Heating System Repair Columbia MD
A-C Air Care is a reliable HVAC service provider offering comprehensive heating services in Columbia, MD. From routine maintenance to emergency repairs, we address all aspects of heating system repair, ensuring your home remains warm and cozy during the colder months.
Our team has vast experience handling various heating systems, including gas furnaces, heat pumps, and boilers. Whether it's a minor repair or a primary component replacement, trust our certified technicians to restore your heating system to peak efficiency.
AC Repair in Columbia, MD
A-C Air Care is a leading HVAC company in Columbia, MD, providing a broad range of air conditioning repair services. Our certified technicians are skilled in diagnosing and fixing issues with various cooling systems, including heat pumps and central AC units.
Here's why you can trust us with your AC repair needs:
Comprehensive AC Services:

Whether your AC unit is failing to cool your home effectively or your blower motor is malfunctioning, we have the skills and experience to provide a timely and effective solution.

Expertise in Various Cooling Services:

We're not limited to just one type of air conditioner. We can handle it all whether you have a traditional air conditioning unit or a heat pump.

Professional Technicians:

All our technicians are certified, which means they have undergone extensive training and are equipped with the knowledge and skills to handle a wide range of AC problems.
AC and Furnace Replacement or Installation Columbia, MD
At A-C Air Care, we understand the importance of a fully operational furnace in maintaining a comfortable and warm environment during the winter months. Our certified service technicians specialize in furnace repair and replacement, ready to tackle your heating challenges in Columbia, MD.
Our comprehensive furnace repair and replacement services include:
Assessment of Current Situation:

Our experts will assess your current heating situation, including the state of your furnace and the overall efficiency of your heating system.

Regular Maintenance and Repair:

Regular maintenance can help extend the lifespan of your furnace. We are equipped to handle any repairs, small or large, to keep your furnace running as long as possible.

When to Consider Replacement:

There comes a point when repairs are no longer enough to salvage a failing furnace. That's when considering a new furnace becomes crucial. A new furnace is a cost-effective solution and an effective way to prevent escalating heating bills when your existing system is beyond repair.

Installation of New Furnace or AC System: If a replacement is necessary, our service technicians will do a great job installing your new furnace, integrating it seamlessly into your existing HVAC system. You can rest assured knowing that your home's comfort and warmth are in good hands with our furnace and ac installation services.
Why Choose Our Us For Your HVAC Services?
Experienced HVAC Technicians in Columbia, MD - Unmatched Expertise and Customer Satisfaction
In-Depth Evaluations and Transparent Estimates
We provide comprehensive home evaluations and detailed estimates before we begin any work. We believe in transparency and will explain each aspect of the job, so you understand what's involved, how long it will take, and what it will cost.
Up-to-Date with Industry Standards
Our team stays updated with the latest HVAC technologies and industry standards. This commitment to ongoing learning allows us to offer our clients the most efficient and reliable solutions, whether for new installations, repairs, or maintenance services.
Customer Satisfaction is Paramount
All of our clients are at the heart of everything we do. So, we strive to offer exceptional customer service at every interaction, from the initial consultation to the completion of the project.
Licensed and Certified Professionals
Each HVAC technician in our team is fully licensed and certified, assuring you that your HVAC system is in expert hands.
What Our Satisfied Clients Have to Say
They installed a hot water heater for me. Victor and his team were great. No complaints!
Darren Lorden
March 30, 2023
Victor was a very great person and helpful with everything we needed I was glad too have him come out and do the great work he did couldn't ask for anyone more greater then victor very great work and very nice having u help us with everything !!!🙂
Audrey Hall
March 29, 2023
Victor did a excellent job explaim very well what was done.
Renzo Reyes
March 17, 2023
Highly professional team with expertise in just about everything HVAC-related. They delivered their services with quality and answered all of our questions with confidence, giving us the assurance we needed in our new home. Looking forward to working with them again!
Kim Jackson
February 23, 2023
I am extremely pleased with the exceptional work provided by AC Air. The technician was extremely knowledgeable and efficient. I can't say enough about his patience to answer every question. Even the receptionist was very attentive to accommodating my scheduling needs. I highly recommend this company!!!
Andy Caceres
February 23, 2023
Excelente Service and excellent customer service
Karen Williams
February 21, 2023
Erick, my technician was patient, thorough, explained everything in detail, and was very pleasant. I had a routine furnace and heat pump service and he spent significant time completing the job. Definitely did not cut any corners!
Clpetrlik Petrlik
December 28, 2022
On time, answered all my questions and remained within quoted price.
melissa williams-Rogiers
August 22, 2022
I can't say enough about how wonderful these contractors were. Very professional, polite, on time and hard working. Always cleaned up everything, thank you for my new unit and duct work repairs.
Green HVAC Solutions in Columbia, MD - Embrace Sustainability
We are committed to promoting sustainable practices that enhance your comfort and contribute to a greener environment. Here's how our green HVAC solutions make a difference:
Partner with Columbia, MD's Premier HVAC Service Provider
Discover the benefits of having the top-rated HVAC contractor in Columbia, MD, handle your heating and cooling needs. At A-C Air Care, our seasoned professional HVAC technicians are unwaveringly dedicated to enhancing indoor air quality, minimizing energy expenses, and ensuring unparalleled comfort. We offer comprehensive HVAC services in one place, promptly and professionally executed.
Reach out to us today for a free consultation and estimate. Let us showcase the exceptional benefits of partnering with the best in the industry.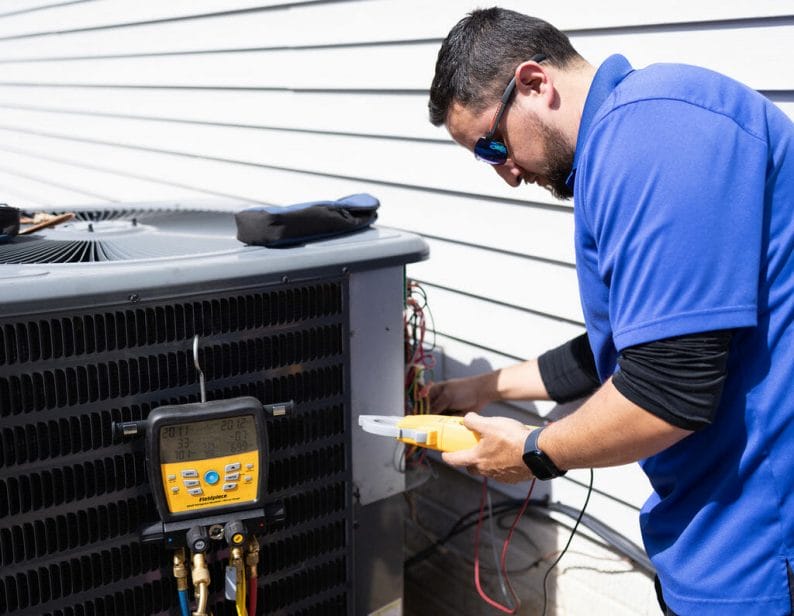 Columbia is a town in Howard County, Maryland, approximately 20 miles southwest of Baltimore. Its neighboring communities include:
Living in Columbia provides residents with a dense suburban feel, and most own their homes. However, many homeowners in this town have dealt with inconsistent heating and cooling. Even worse, climate change is another factor that has damaged HVAC systems in many homes in Columbia, MD.
Maintaining your HVAC system annually can go a long way toward reducing your climate footprint as a homeowner. In addition, investing in HVAC services from qualified and highly skilled HVAC contractors can make a big difference, making you feel more comfortable at home and protecting our environment.
Frequently Asked Questions